A mix of contemporary and traditional sitting side by side.
Amsterdam is a perfect destination for travel incentives, meetings, and events, so we've pulled together 6 must-see venues that we think you need to know about.
When you think of Amsterdam, certain things might spring to mind, but the city has so much more to offer. In fact, millions of tourists visit each year, and many come back again and again. Picturesque buildings line the canals, and there is contemporary and historical culture to absorb. By night, the city comes alive with world-renowned dining, entertainment, and dancing into the early hours.
Amsterdam is also leading the way in sustainability and fighting climate change. The city aims to become the first European city to be completely emission-free by 2050. They're already making great strides towards this. The city's primary mode of transportation is cycling which is an excellent way to get around the city and take in the sights.
It really is hard not to love Amsterdam! The city is easy and cost-effective to travel to from the UK, with plenty that will keep everyone happy. Amsterdam is a perfect destination for travel incentives, meetings, and events, so we've pulled together 6 must-see venues that we think you need to know about.
1. A'DAM Toren
On the edge of the IJ river across the water from Amsterdam's Central Station stands the A'DAM Toren (Tower). The architect Arthur Staal designed the building for Royal Dutch Shell in 1971. It became their home until 2009, when a regeneration project began. New life flowed into what was the city's industrial district turning it into a cultural mecca. Short for Amsterdam Dance and Music, the A'DAM Toren opened in 2014 and has attracted huge music brands such as Sony and Massive Music.
Amongst the 22 floors of A'DAM Toren, you can eat, drink, work, play and sleep. There is a selection of top-notch restaurants, workspace options and bars. Plus, the vibrant Sir hotel and sky-high event facilities will not disappoint you. But that's not everything. Sitting like a cherry on top of ice cream is The Lookout. Boasting 360 panoramic views and Europe's highest swing 100ft above ground level.
It all sounds rather impressive, but there is still more to brag about! The most incredible part of the A'DAM is The Loft, a deluxe penthouse-style event space on the 16th floor. It is stylish and versatile. The space can flex for just about anything. Here, you can host dining, launches, conferences, weddings, and even a rave if you want to. The layout mimics a luxury apartment that splits into several areas such as The Living, The Library or The Kitchen. The Loft can hold up to 225 comfortably but also is a suitable option for a more intimate setting. For an extravagant and mind-blowing venue with a difference, the A'DAM Toren is the place to be.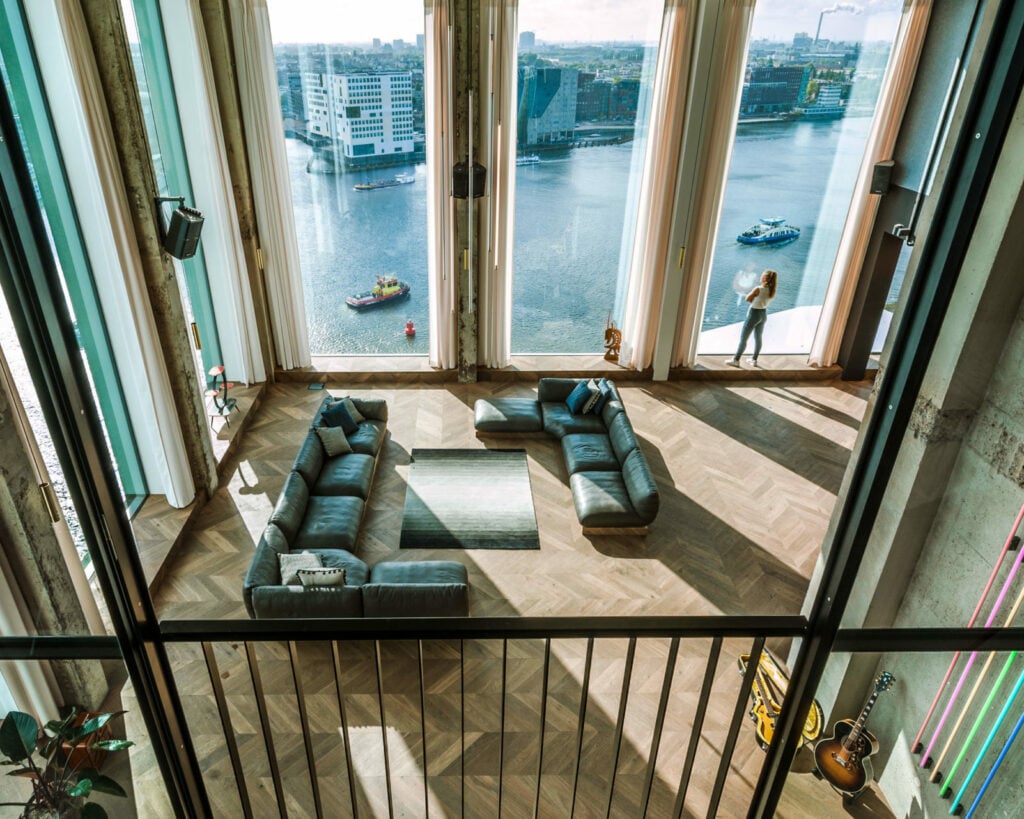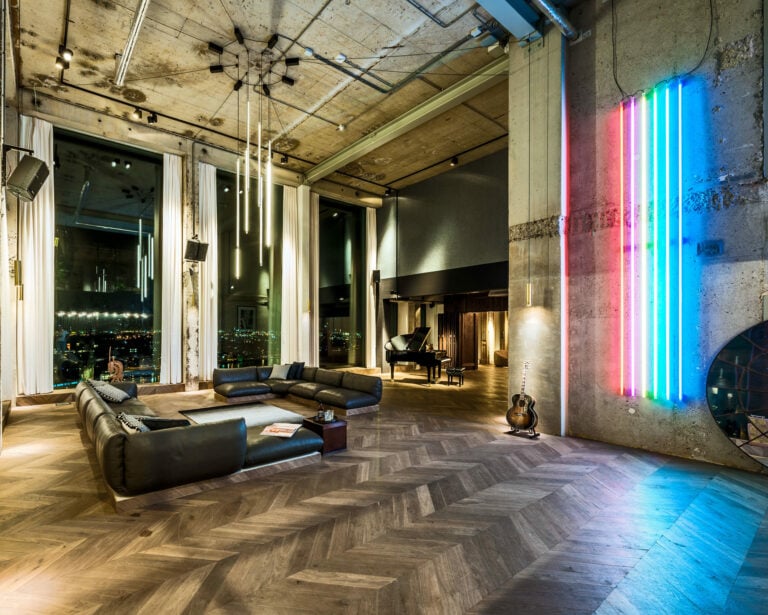 Photo Source: https://adamtoren.nl/the-loft/
2. STRAAT Museum
STRAAT Museum is possibly one of the trendiest event venues in Amsterdam. An 8000 m2 former warehouse on the NDSM wharf in Amsterdam Noord has turned into an art museum. Over 150 pieces of street art and graffiti showcase talent from all over the world. The exhibition boasts some of the biggest and upcoming names in the industry. Event attendees can absorb the art and leave feeling inspired.
What's even better is that 4000 m2 is available to hire for meetings and events. This unique venue offers 10+ event options and can host from as little as 10 up to 2000 guests. The venue prides itself on adaptability. Each meeting and event can be tailor-made to your specific requirements. This venue offers so much flexibility and endless possibilities. For inspiring meetings or epic event spaces, STRAAT should be on your radar.

Photo by: Mat Clapham
3. Amsterdam Canal Boats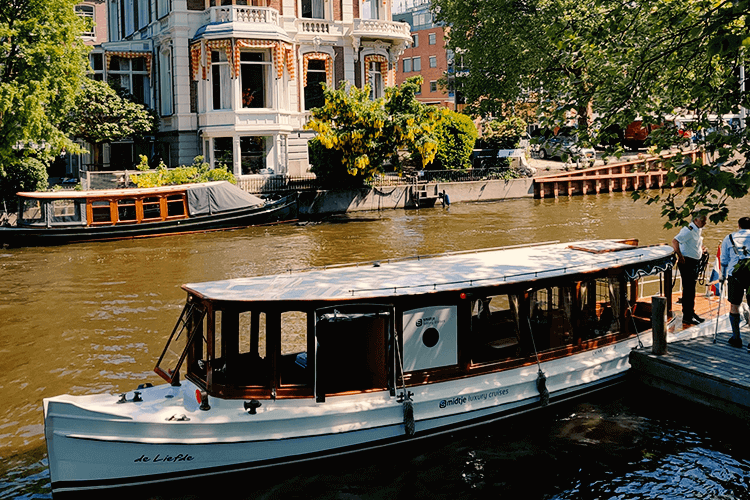 Photo by: Mat Clapham
Amsterdam is famous for many things, one being its canals! Sailing along the water gives a new perspective to sightseeing and means you can sit back and absorb the Dutch vibes. There are many reasons why the city centre has a network of waterways, but we'll spare you the history lesson for now.
But how about using the famous canals as a location to host your event? A canal cruise might be the solution for a smaller, exclusive event venue with a difference. Guests can watch the world go by as they glide down the waterways. Most cruise companies can tailor the experience to your needs. Canal cruises are an excellent option for small VIP events. From incentive rewards, dining, networking and cocktails, you can treat guests to a luxury experience.
4. Okura Amsterdam
Okura Amsterdam treats guests to the full Japanese hosting experience known as omotenashi. Through the doors, you enter a world of Japanese tradition juxtaposed with the Western Dutch culture outside. The 5-star hotel oozes tranquillity and peaceful luxury amongst city life.
You can find the hotel Okura in the cosmopolitan area of De Pijp. The high-rise 22 floors stand out against the flat landscape around it, and the view from the top goes on for miles. For those who love food, Okura doesn't disappoint. There is a collection of Michelin star dining options to choose from. For a taste of Japan, there is Yamazto serving authentic haute cuisine called Kaiseki Ryori.
Another positive is that The Okura Group are a member of Green Globe, a global certification for sustainable tourism. For the last 5 years, Okura Amsterdam has achieved Green Globe Gold status for their implemented practices.
Okura Amsterdam has everything you could ever need for large-scale events and smaller meetings. Spread over the first floor, there is a total of 2700m2 of meeting space for up to 2.5k people. Also for an extra exclusive touch, the venue has a designated VIP entrance into the events area.
Unforgettable Japanese hospitality, enviable event space and a commitment to sustainability mean Okura Amsterdam should be high on the list for your next event venue.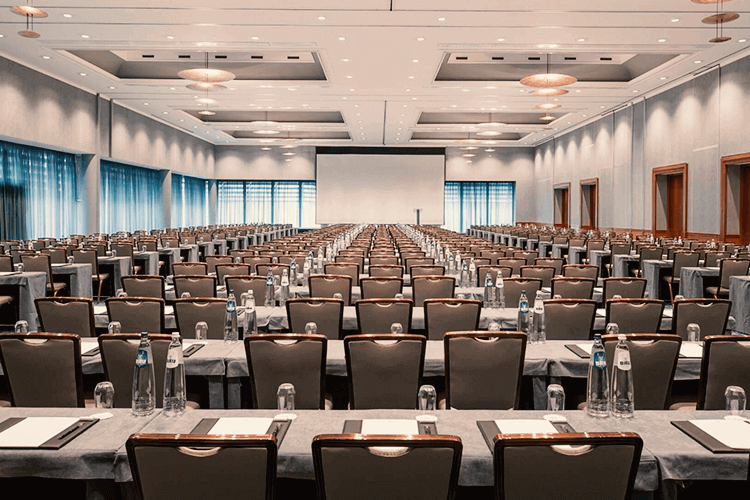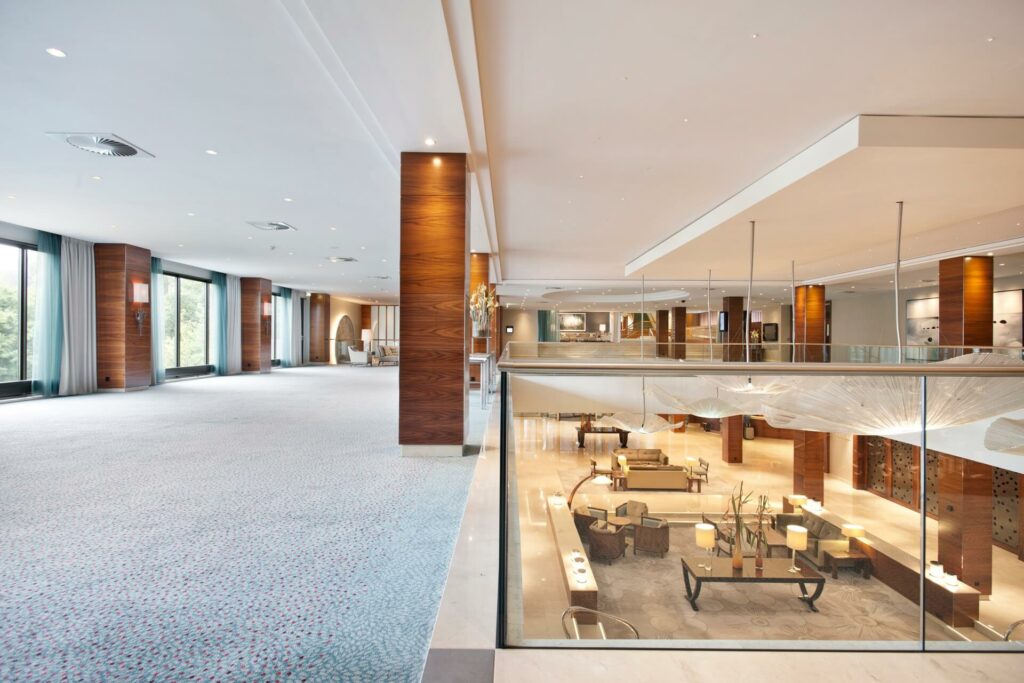 Photo Source: Okura Website: https://www.okura.nl/events/
5. Hotel Arena
There is a lot of history within the walls of Hotel Arena. It had an exciting life before turning into a four-star boutique Design Hotel™. The building opened its doors in 1888 as an orphanage for Catholic girls and stayed this way for many years. Then from 1944 to 45, the building survived a Nazi invasion. Bankruptcy soon followed, and the building became a place to house the hippie dam-sleepers. In 2002, Hotel Arena as we know it today opened its doors. There is a modern and crisp style to the décor, which contrasts with elements from its previous lives.
With the location of Hotel Arena on the edge of Oosterpark, you can enjoy a green environment on the edge of the city centre. Not only is nature on the doorstep, but there is a strong focus on sustainability. The hotel commits to taking good care of the environment. They have many green initiatives to do their bit. For example, they use local produce and support forestation projects. The historic building also needs constant restoration, so continuous improvements enhance energy efficiency.
The event space here is fit for meetings, conferences, TV recordings, exhibitions, fashion shows, dinners… the list could go on. For the more business-like side, there are a collection of meeting rooms. However, the crown jewel for Hotel Arena is the centuries-old, converted Chapel. Rustic and industrial with original frescos and marble, the Chapel is seriously impressive. The Chapel is great for a variety of purposes, but it's particularly suited to parties with the wow factor. Hotel Arena's approach to sustainability, idyllic, peaceful location, fascinating history and sleek décor puts them up there as one of the coolest venues in Amsterdam.
Photo by: Mat Clapham
6. Bartolotti House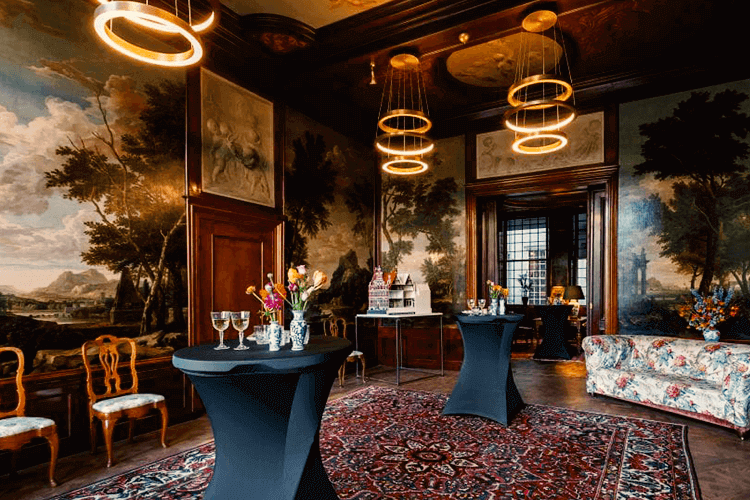 Photo Source: Unique venues of Amsterdam
Bartolotti House is one of Amsterdam's most well-preserved canal houses. The wealthy Willem van den Heuvel had the house built around 1620. Heuvel later changed his name to Guillelmo Bartolotti, after an Italian uncle from whom he had inherited a lot of money. This gave us the name we know the house by today.
For its time, the building was ahead of the times. The frontage curved around the twists of the Herengracht, and the exuberant decor impressed the people of Amsterdam. In 1755 a large annexe with the beautiful Rococo Hall was added.
A recent renovation has seen the building return to its original grandeur. As visitors explore rooms, try furniture, and absorb the architecture, they can immerse themselves in history.
Bartolotti House is available for event hire. The venue offers a high-end, premium setting for private dinners and drinks, conferences and meetings. It's a unique setting for intimate events and will get guests talking as they step back in time and enjoy the atmosphere.
Do you need some help planning a travel incentive for your team? Our team of travel incentive planners are here to help. Learn more about asembl. incentives here.