The main aim of any event, experience or activation is to bring people together.
A successful event will resonate and connect with your audience. You want their experience to be memorable for the right reasons. A diverse and inclusive environment must be part of the initial planning process. It can't be something added as an afterthought because it won't feel natural or authentic.
The world around us is making strides towards inclusivity, acceptance, equity, and diversity. Our population is growing, and society is finally becoming more accepting. It's a given that the number of LGBTQ+ people attending your event will increase, so we must make sure the event industry isn't a step behind. This means we need measures in place to ensure their comfort early in the planning process.
Inclusivity and diversity encompass race, ethnicity, age, physical ability and religion. But, in honour of Pride, we have assembled a few best practices you can include in your event strategy to support the LGBTQ+ community.
1. Include a non-discrimination statement and zero-tolerance policy.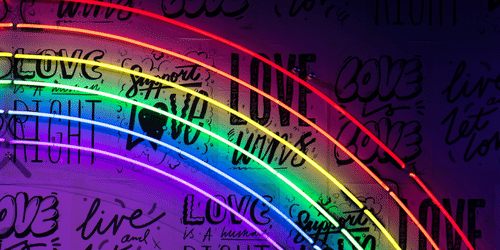 Have zero tolerance for homophobic, transphobic, or racial behaviour at your events. Start by developing a diversity policy for your organisation or event, and ensure the public can access it. Whatever you put in your policy, you must stand by it. If anyone acts discriminative during the event, talk to them and remove them from the environment if necessary. Train event staff on the policy and ensure they understand how it impacts their role.
2. Picking an event location.
Even in this day and age, there is a lot of discrimination against the LGBTQ+ community. Not all countries, cities or venues are welcoming. When selecting a location, do your research to ensure they're the right fit and have similar values as you.
Your venue sets the scene for a successful event. It should be in a safe space that is appropriate to bring this community of people together. Individuals are choosing to avoid venues and locations where they feel uncomfortable. To ensure this doesn't happen, include an evaluation of the social environment when you complete a risk assessment.
3. Promotion of your event.
It's essential to make people feel valued and included from the very beginning. Promote your event as a welcoming space with diverse imagery and inclusive language. Show a mix of real-life photos of LGBTQ+ people, not cheesy stock photos. Messaging and imagery that do not feel inclusive can put people off.
4. Communication to attendees.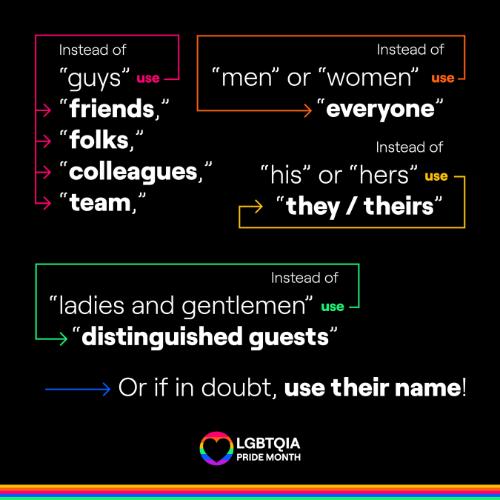 The language you use to communicate can have a significant impact. Whether in an email or on a poster, the words you choose when addressing your audience matter. Try to use gender-neutral terms to relate to everyone.
You can use this information to personalise the audience's journey at the event. When including a sign-up or information form, allow guests to select their choice of pronoun (e.g. he, she, they). Also, add the gender-neutral honorific Mx to the standard options of Mr, Mrs, Ms, Dr, Rev etc.
Your first instinct might be to include "male," "female," and "other" as the options. For someone transgender or gender non-conforming, the term "other" can be reductive and make people feel excluded. The best way to avoid this is to provide a blank, free-type field so guests can input how they identify. And, if gender isn't important to the event experience, don't include it in the registration.
5. On the event day.
You've been building up to this moment, and your event has kicked off. Your audience's on-site experience is crucial. Creating a positive, memorable experience will ensure your event's success.
Start by extending a warm welcome to everyone regardless of sex, gender, religion and beliefs. Make the check-in process as streamlined as possible. Do you really need to check their photo ID? If it's necessary for legal purposes, ensure staff know how to manage attendees whose presentation may not match their ID. Name badges can use the information collected during registration and include pronouns. Networking can be awkward enough, so this simple step alleviates some pressure.
For many transgender or gender non-conforming people, using the restroom can cause great anxiety. Allow people to choose the bathroom of their gender identity and ensure there are gender-neutral options with clear signage available.
Content is another area to find the right balance. Events have the power to create a ripple across society. This means that content should support social values and enhance our understanding of the world. Ensure that you mix topics and pick speakers that reflect the broader community. Hosting LGBTQ+ speakers on your panel helps the LGBTQ+ community to feel represented.
People are at the heart of the events industry, so we must do all we can to make them feel safe and accepted. The world is constantly changing, and we need to keep listening to one another. Eventually, these practices will be ingrained and will be a natural part of the planning process. By learning from our mistakes and keeping our minds open we can promote equality. Together, we can all make a difference.