We're celebrating Marvellous Maddy's 5-year asembl.versary!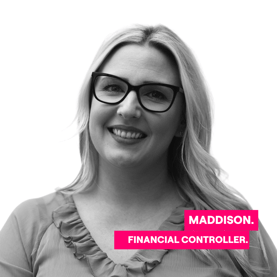 Our finance team are often hidden behind the scenes, but they're always there making sure we stay on course.
The captain of the finance ship is Maddison Grant, aka Maddy. She's nothing like your stereotypical Financial Controller. Not only is she a financial wizard and the guru of all things Excel, but she's also our resident karaoke star 🎵🎤. #womeninfinance
Today, we're here to celebrate Maddy's 5-year anniversary! She's been with us since the In2Events days and has been pivotal in our move to asembl.
We caught up with the lady of the moment and asked 5 questions for 5 years...
Here's what she had to say.
1. What path did you take to get to where you are now in your career?
I decided to kick-start my career by completing an apprenticeship in Accounts. I'm a massive advocate of apprenticeship schemes as you can apply your learnings directly… so much so that I became a bit of an ambassador for AAT at the time…. You'll still be able to see my face on their website. 💁🏻‍♀️ #famous
Apprenticeships and graduate schemes are something we're working on with our asembl.Academy, and it feels really good that we're giving back to younger generations and helping them find their passion.
2. What's the best thing about working at asembl?
Without sounding cliché, it really is the people that make it. At asembl. we aim to recruit amazing people, and I'm constantly learning & laughing with the team. It's never a dull day in the office.
I think the events industry attracts a certain kind of person –someone who is vibrant, driven and enjoys a challenge, making the events industry its own special community.
3. What words of wisdom you would tell you of 5 years ago?
I've learnt over time how important it is to stay true to yourself and be real. We are people working with people, after all. Finding an organisation that reflects my values makes work so much more enjoyable because I can relate to what we are all striving to achieve.
4. What does it mean to you to be a #womaninfinance?
It's crazy to think that in this day and age, where we can be anything we want, only 12%* of financial services leaders are female. I'm proud to be going against the industry grain in an inclusive, supportive environment at asembl, and I hope that I can encourage other young women to consider finance as a career option.
5. Where do you see yourself in 5 years?
I would like to continue growing in a personal and professional sense. I've been part of the Elevate Mentorship Scheme and would like to have the opportunity to mentor others and support them. I also have the ambition to become even more involved in #womaninfinance and become more immersed in that community.
Happy 5-year anniversary, Maddy. We hope you have fun celebrating. Cheers to the next 5 years; we're excited to see what the future brings.
*womaninfinance: https://womeninfinance.co.uk/
---
Like what you see? Learn more about the team here