All asembl. for
P

r

i

d

e.

We know we might not be the most diverse agency in the world (we're working on it), nor are we pretending to be something we're not. But we do try to be the best version of ourselves that we can be. A more aware, more inclusive, and more authentic version. Why? Because the world doesn't need another display of insincerity.

We hope that by not making things all about us, by not preaching or patronising, we elicit less of an eye-roll. We're here to celebrate Pride and the LGBTQ+ community in the purest form. Yay right?! Or perhaps that should be… Slay. 'Tis the season after all 💁🏻

As we all know, Pride Month is a vibrant celebration honouring generations who have fought for acceptance and inclusion. At the very heart lies a rich array of artistic expression that not-so-quietly challenges norms and advocates social change. In this blog, we will be championing(?)… Hmm, no, that's giving us the ick... Spotlighting the ways the rainbow of LGBTQ+ creativity shines through the grey humdrum.
But first, let's recognise some of the greats who paved the way to a more colourful, diverse and embracing society.
Artists have fearlessly forged their path from visual to performance arts, literature to music. Utilising their unique perspectives, they create influential works that resonate. From trailblazers like Frida Kahlo and Keith Haring to contemporary voices like Tracey Emin and Frank Ocean, the LGBTQ+ community has enriched the art world with their authenticity, unflinching honesty, and exploration of queer identities and experiences. This list goes on and on and on… I mean, we've not even touched upon the iconic fashion designers from across the decades. However, for today, we're sticking with our area of expertise and will focus on campaigns and experiences.

As experience makers, the ideas we've curated below can work no matter the audience. Combining these elements can encourage human connection and help us see from a different perspective. It's a step in the right direction against discrimination and creating a more inclusive world. So, let's dive into how you can express gratitude, support and celebrate LGBTQ+ culture in our world of live experiences.
Interactive Art.
Immersive experiences go beyond traditional exhibitions, engaging visitors and making them a part of the narrative. The LGBTQ+ VR museum celebrates the stories of LGBTQ+ people through dozens of their personal items scanned into 3D and 2D artworks. The content responds to visitors' emotions in real-time as they explore the VR museum. This forms a deeper connection between art and the audience and adds a layer of interactivity. As an accessible experience open to people of all abilities, there is no barrier to celebrating queer artistry in an inclusive environment.
Creative Performances.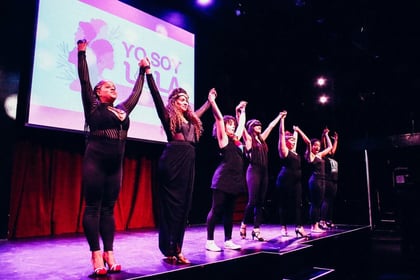 Safe spaces where LGBTQ+ artists and participants unite to celebrate their identities through workshops and group expression are powerful environments for human connection and community-building. Not to mention one of the best physical expressions of collective storytelling.
Queer Bodies in Motion is a collaborative dance project that explores movement and self-expression to emphasise respect and empowerment. Here, participants embrace their bodies and express their authentic selves. Workshops focused on contemporary dance and improvisation celebrate queer identities and raise awareness of discrimination.
Social Media Movements.
Social platforms are vital for amplifying LGBTQ+ voices, promoting diversity and building inclusivity. In front of a global audience, reshape narratives through killer content and viral posts. In the digital age, the only limit is your imagination.
To raise awareness about the rise of homophobia in France in 2018, "Their Story Is My Story" saw celebrities share stories of assaults against LGBTQ+ people on their social media accounts as if they were their own. The big reveal only came 24hrs later, when celebrities revealed the truth in a music video. This campaign then became a cultural movement that saw thousands of people sharing their stories, resulting in homophobia becoming the focus of the news worldwide.
Collaborative Spaces.
There are many organisations dedicated to providing resources. This includes spaces for LGBTQ+ artists to flourish. Businesses, particularly their experience designers, often work with artists and LGBTQ+ creatives to ensure authentic representation and create spaces honouring queer creativity.
The Leslie-Lohman Museum of Art in NYC is one such organisation that exemplifies this commitment. Dedicated to preserving LGBTQ+ art and the contributions of queer artists throughout history, it regularly serves as a venue for hosting exhibitions, partnering on educational programmes and organising events that bring together the LGBTQ+ community with the broader public.
Community Pride.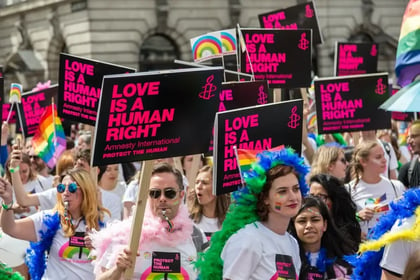 Artistic expression is at the heart of so many local LGBTQ+ communities. We strengthen the bond between art, community, and festivity by celebrating these diverse voices and their contributions. Diversity enhances creativity and community. This brings us nicely back around to… Pride: probably the most prominent and significant LGBTQ+ community celebration there is!
In cities worldwide, Pride Festival champions (there, we said it) local LGBTQ+ communities. Uses a variety of art forms to showcase a wealth of artics talent and expression. A sense of unity cultivates through community-building activities, such as skill-sharing, gatherings and a good old-fashioned knees-up.
We hope you enjoyed embarking on our journey of Pride and self-expression. But seriously, there is a reason why we should be celebrating this and every Pride Month. There is so much deep-rooted history. We should always remember the courageous people who have fought to be their authentic unapologetic selves.
Go forth and embrace, nay uplift, LGBTQ+ artistry in your event planning efforts. Create inclusive and memorable experiences for all. Together, we can continue to honour the transformative power of queer creativity during Pride Month and beyond.
Supporting Pride really isn't just a June thing. It's an all-year-round thing... Here are some ideas you can use to bring a touch of LGBTQ+ flair to your experiences all 365 days:

The Canvas of Identity: Imagine a collaborative mural that represents the diverse experiences and identities within the LGBTQ+ community. It's a celebration of individuality and the unity of the community. Participants from all works of life participants contribute their unique artistic touch. They use various mediums to create vibrant and ever-evolving artwork.

Queer Voices Unleashed: An interactive spoken word poetry event that invites LGBTQ+ poets and attendees to share their personal stories and perspectives. Participants can engage in writing exercises, receive mentorship from established queer poets, and take the stage to perform their own spoken word pieces.

Drag Transformation Experience: A hands-on workshop where attendees can learn the art of drag makeup and styling from experienced drag performers. Participants can experiment with different looks, create their drag personas, and celebrate the transformative power of self-expression.

Storytelling Circle: A facilitated storytelling session where LGBTQ+ individuals and allies come together to share their personal stories, experiences, and journeys of self-discovery. Participants can share in a safe and supportive environment, fostering connection and understanding.

Queer Film Festival: A curated film screening event showcasing a selection of LGBTQ+ films of established classics and emerging works. Attendees can actively engage by participating in post-screening discussions, sharing their interpretations, and connecting with filmmakers and actors through Q&A sessions.


Remember, the key is to design interactive experiences that engage participants, encourage self-expression, and celebrate the diverse artistic talents within the LGBTQ+ community. These are the key principles of LGBTQ+ creativity and celebration.

Written by: Christian Apthorpe
Head photo by Margaux Bellott on Unsplash
Jesús Boscán on Unsplash
Ian Taylor on Unsplash